Seasons Greetings
December 16, 2014
Winter is here! Keeping the spirits bright, we've decorated the
Nomchom kitchen
for the season. Currently, we have some nomchom goodies up for sale at the
Sun Gallery
Holiday Boutique. There are lots of other items available created by a wide variety of artists, including handmade cards, charms, hats, scarves, mugs and more. For every item sold, a percentage goes towards children's art programs at the Sun Gallery.
Looking ahead: new nomchom memorabilia will be coming to our shop soon! Also, we will be posting some fun and exciting test animations to the new
animation
section.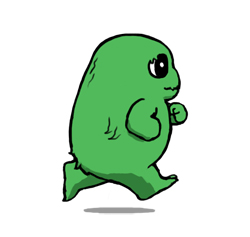 Thanks for stopping by. Share the love, stay warm and Happy Holidays!
Rumble with the APE 2014
September 16, 2014
We are excited to announce this coming October the nomchom booth will be
present at the
Alternative Press Expo
in the Fort Mason Center in San Francisco.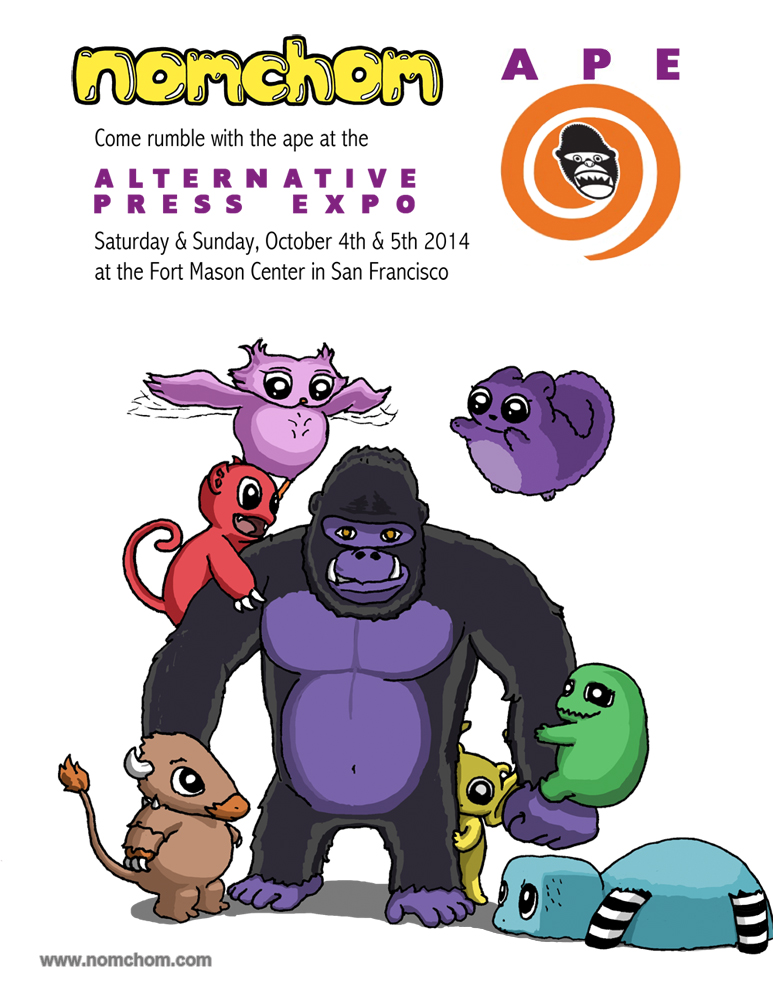 Another thing to look forward to in October is our line of Halloween themed merchandise and a new comic strip for this frightfully good time of the year!
Also, be sure to check out the new website of our parent company, Happy Ghost Productions! In the site, you will find flying ghosts, a graveyard scene, a haunted house and other fun areas to explore, hosted by the ghost host, Sheeshaboo.
www.happyghostproductions.com
Here comes the sun!
January 27, 2014
The sunlight is shining down on the nomchom.
We are pleased to announce that we will be participating in The 25th Annual Children's Book Illustrators Exhibition at the
Sun Gallery
from February 7th - April 7th, 2014, with a book signing on March 16. We'll have framed nomchom illustrations and our first edition comic book!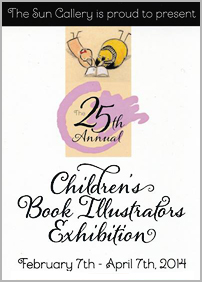 Happy Holidays
December 14, 2013
Greetings! As you may have noticed, we've decorated the
kitchen
for the holidays. We have a lot of sweet things in the works for the
Etsy store
, including: hand-painted onesies, aprons and tote bags. We are also just around the corner from finishing a short animation. Stay tuned for that!
We hope you are enjoying all the pleasures of the Holidays. Stay Warm!

Trick or Treat!
October 13,2013
This month, our kitchen's dressed in a delightful Halloween theme. Be sure to see the
home page
screen. Click on the objects in the kitchen and things might happen.
Our booth on October 4th was a success! It was wonderful seeing everyone who came out and supported us. The nomchoms appreciate it.
Here's a list of new items in the
etsy store
: Halloween cards, Clo clo in Space sticker card (we love this one), and Halloween T-shirts. Get them while they're still here!
Disney Land

The nomchoms will be going on an exciting trip to the wonderful place of magic, Disney Land! The little guys will be running through the park at any given moment. We'll be on it taking camera shots of their adventure. Come back after the end of the month to see where they've been in Disney Land.
Creations

We are in the midst of coloring our next comic. It's been some time in the making, but well worth the wait.
In the near future, we'll also be releasing a nomchom animation short. Here's a sneak peek. . .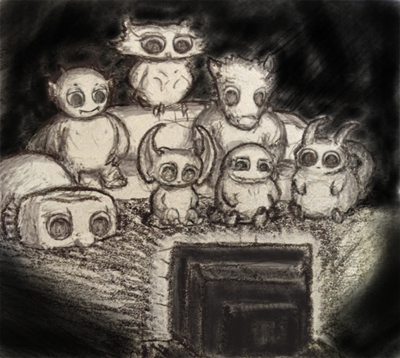 September News
September 1,2013
We are excited to let you know we're setting up for Halloween! Look in the
shop
for the traditional nomchom Trick or Treat bags. They're made here in the Happy Ghost Studio.
Keep an eye out for our some really cool t-shirts - here's a sneak peek at one of the designs: Clo Clo & her cupcake.
We'll be decorating the kitchen in our
home
page with a touch of interactivity for the Fall season.
The producer of Happy Ghost Productions has a very nice facebook page that you should check out

here for fun & spooky stuff.
We're producing animations for some future nomchom cartoons. Here's a fun test you can see. Click on Ollalie and her doll to see her in motion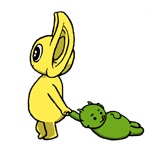 February Specials
February 10,2013
We have a few treats for you this month. Check out our comic
Mc Wimpy's Surprise
, and for Valentines Day, you can download the Snupps Valentine wallpaper. Just click on the image you see above in the 'extras'. In our
Etsy store
, we have a new & exciting product: a
sticker packet
filled with nomchom characters, treats, three extra scenes and a bonus sticker - 18 fun stickers in all! You can also keep up to date with new pictures and surprises in our Facebook page. Enjoy!
The Oakland Art Murmur and Nomchom
October 29,2012
The Oakland Art Murmur is an event held every first Friday of the month filled with art and music from local artists around the Bay Area. It used to be a thing with open art galleries covering several alleyway streets. Now it has grown into an amazing, should I say parade? Oakland closed the streets down on Telegraph Avenue for all the artists, so we will be attending this event with our first Nomchom booth! There will be a lot of fun things to see, so we invite you to come join us in our celebration and check out our booth! We should be located from 20th to 25th St. & Telegraph Ave.
See you there!
The Etsy Shop is now open
October 10, 2012
As a celebration of Haloween, we have released two special 'Trick or Treat' bags that are available now for
purchase
, featuring some of the nomchom characters on a moonlight stroll and Nomchom with Ollalie in a pumpkin. There is only a limited number of bags, so get'em while they last!
Nomchom Released
October 10, 2012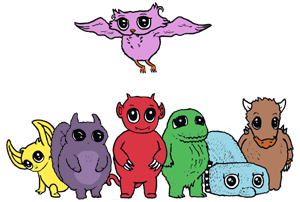 Welcome to the newly released website for, nomchom! These are little monsters that go on adventures together and get into mischief. It is a dedicated cartoon that is a comic and soon to be animation.